Podcast: Play in new window | Download | Embed
Our friend and teacher Dr. Alexandra Solomon has spent over 20 years working with couples as a Licensed Marriage and Family Therapist and teaching the popular Marriage 101 course at Northwestern University, and is the author of two bestselling books on love and erotic intimacy. Dr. Solomon is one of the teachers we most love learning from in this field, and we find our philosophies and approaches align and complement one another.
So when she recently launched an online course, INTIMATE RELATIONSHIPS 101, we enrolled right away, and Charlotte and I have been spending time with the course, both together and exploring on our own. We are both having mind-blowing aha! moments that are breathing new life into our own relationship. We've been together for 15 years, and even as dedicated love professionals, this course is giving us so much support and new tools to reconnect – especially after the pressures of this past year!
We love this course so much we asked Dr. Solomon for permission to share it with you, and she generously agreed to join us for an interview about why we need Relational Self Awareness now more than ever.
And to be clear – Relational Self-Awareness is for ALL of us.
Relational Self-Awareness is grounded in the most important relationship – your relationship with yourself.
If you are single or between relationships, this course will help you make sense of your last relationship and help you get ready for your next one.
If you are in a relationship, this course will help you use relational and sexual self-awareness to navigate these troubling times.
★ INTIMATE RELATIONSHIPS 101 is a self-paced online course and offers you:
6 modules with 20+ videos that bring together cutting-edge research, clinical wisdom, and practical tools that you can integrate into your life today.
Worksheets and resources designed to help you apply the content into your life.
Support along the way via in-course comments and emails from Dr. Solomon.
A copy of Dr. Solomon's books, Loving Bravely and Taking Sexy Back… because every good class includes some required reading!
This course is a deep dive and will give you a comprehensive foundation in the skills of relational and sexual self-awareness— the skills you need to create a thriving and healthy intimate partnership. Enroll here, a discount is built right into the link for members of the Pleasure Mechanics community.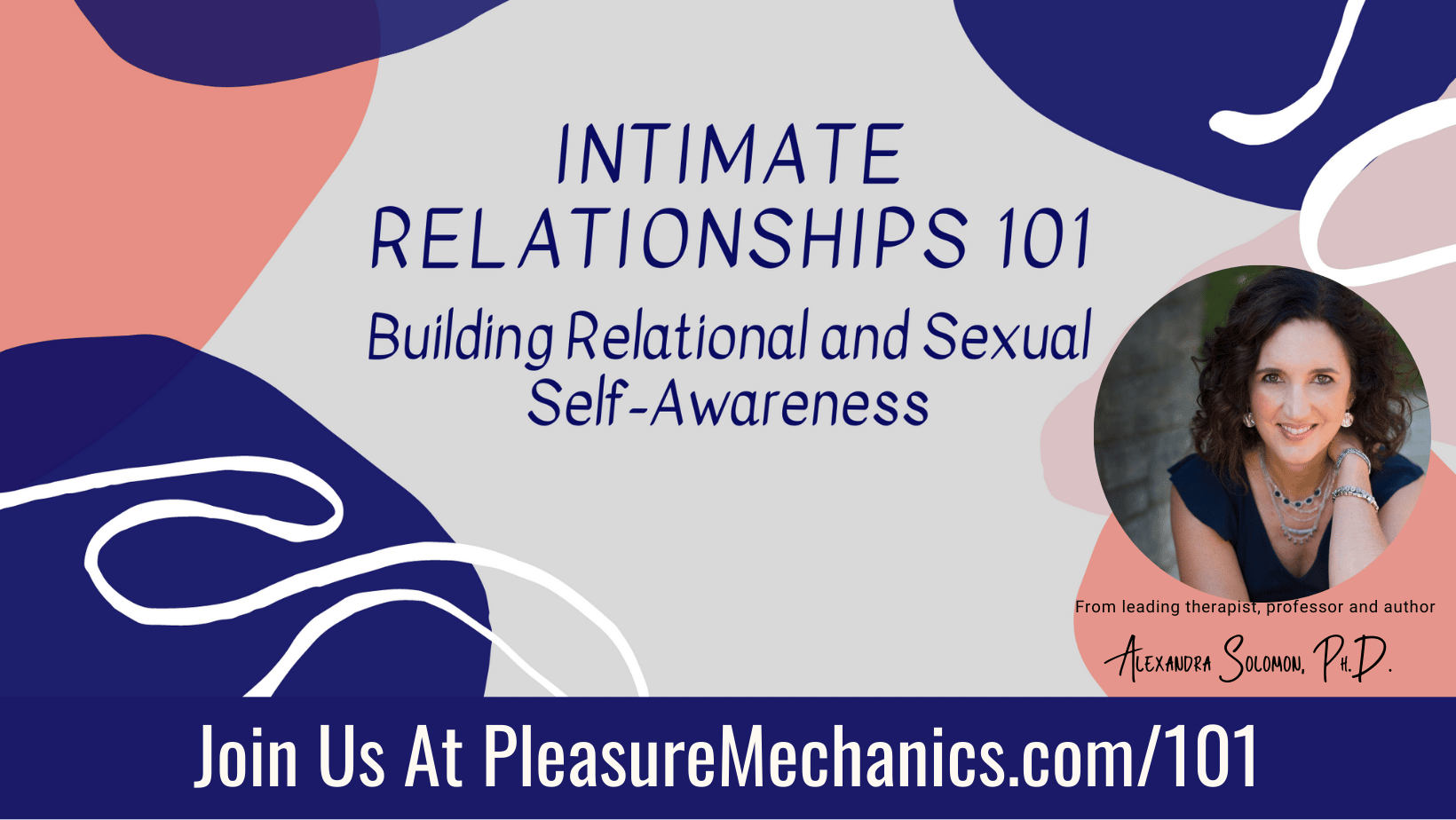 More Resources About Relational Self Awareness from Dr. Alexandra Solomon